Kristin Link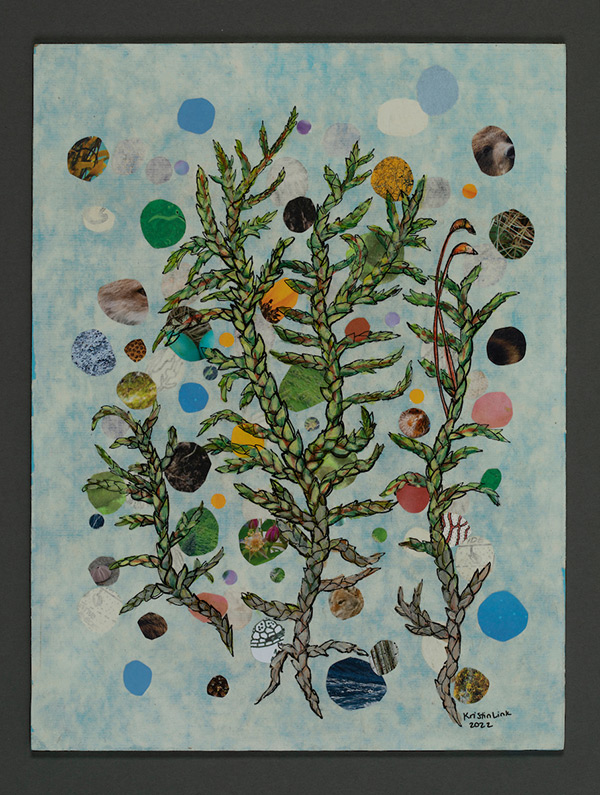 Everything is Connected: The Story of a Limiting Nutrient
A Boreal Odyssey
After Aldo Leopold
X started as N2 (Dinitrogen gas) with a triple bond as part of the air. It got fixed into NH4 (Ammonium) by a nitrogen-fixing plant, alder, in exchange for sugars the plant provided its bacterial host. It became part of an organic compound and the world of living things. X helped the alder grow and then became a leaf. The leaf fell the following spring and the organic compound broke down into part of the soil. X became part of the grass and grew through the next summer until it got cut by a vole. The vole was eaten by an owl and became an owl pellet. The owl pellet got washed away in a late summer storm and X became a part of the water, where it was taken up by a forest and became bark. When the tree died it became soil, which over another long time was taken up by moss. Then X was eaten by a snow scorpionfly which was eaten by a dragonfly which died and decomposed and became soil which froze and became permafrost, where it stayed for a long time until the permafrost thawed and X became the greenhouse gas NO (Nitric oxide) and went back to the air.
This body of work is inspired by the Nitrogen cycle in the boreal forest. During ITOC presentations, I was inspired by the work of scientists Dr. Tamara Harms and Dr. Knut Kielland and the way they explained the Nitrogen cycle as an invisible emergent property that connects different life forms (as well as soil, rock, and water) and that is also being impacted by climate change, specifically fire, leaching, and permafrost thaw. In my mixed media compositions, I layer drawings of the boreal forest with collage elements that represent the invisible but important Nitrogen cycle.
Kristin Link
Kristin Link is a fine artist and science illustrator living in the boreal forest on the Nizina River and Ahtna Land in the middle of Wrangell-St. Elias National Park and Preserve. She makes mixed-media work and drawings that reflect on our connection to the natural world. You can find more of her work at KristinLink.com or @linkkristin on Instagram.