Katie Ione Craney and Kelsey Aho
i am alive • photographs, fireweed seeds, and braille on and in jars;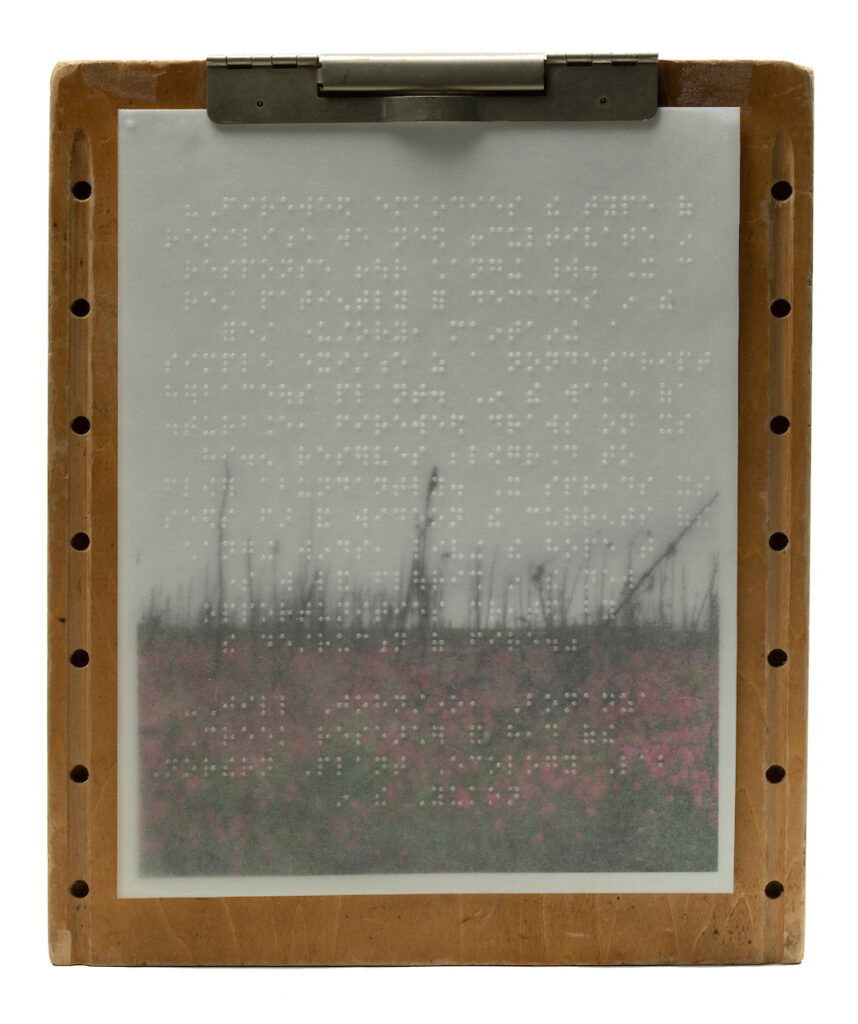 Seed Songs and Love Stories
We began this project by building relationships between the boreal forest and our homes in the coastal temperate rainforest. We questioned the rigidity of the borders separating the two ecologies. We examined non-linear alternatives, such as how to thrive and disperse seeds amidst disruption and imaginary borders. As an artist and a geographer we found ourselves on a similar path, looking towards fireweed (Chamaenerion angustifolium) for guidance on how we might bend amidst disruption towards the resilience embodied in beauty and healing.
The peoples of interior Alaska call the rhizomatous, floral willowherb gȯh. Southeast Alaska's Lingít language knows fireweed as lóol. The shoots, leaves, flowers, and stems of this plant enliven the borders and disturbed floors of the boreal forest between snow melt and snow fall. Across the northern hemisphere, people have consumed, constructed, and healed with this perennial plant.
Our works highlight the essence of this plant and examine boundaries, comforts, and connections. Some pieces in this installation are meant to be physically engaged with, including a puzzle, objects with Braille, and recipe cards. The puzzle attempts collaboration across temporal and spatial barriers and distance and we ask that you help us all piece it together. The Braille works are here for you to consider multiple ways of knowing and experiencing the world. The recipe cards lend locations of ingredients and instructions; we call these intimate passages of where, when, and how to share such gifts of the boreal forest "love stories." The hanging cards hold fireweed seeds to mimic wind-carried seed dispersal and offer a reflection on patterns, cycles, and paths forward.
Altogether, we call these sensory experiences "Seed Songs": stories we can carry with us in various forms, to help us remember the lessons of fireweed.
---
We thank the following consultants for guiding our understanding of plant and place: Dr. Jill Johnstone, Teresa Hollingsworth, Keith Thompson, Marian Eiben, Stefanie Ickert-Bond, Jan Dawe, and Yéilk' Vivian Mork.
Katie Craney
Katie Ione Craney lives nestled between the mouth of a braided river and the edge of a deep, glacially carved fjord in Lingít Aaní, also known as Southeast Alaska. Through her art, she reflects on memory, survival, and accessibility in the rapidly changing North.
Kelsey Aho
Kelsey Barbat Aho's ancestors originated in the Karelian region of Finland and the Zagorje region of Croatia. She first found belonging in folk-dance, purpose while cultivating and harvesting plants, and imagination in place-based storytelling. Kelsey listened to those involved in the Bonanza Creek LTER and wove those arts, humanities, and Western science threads into a collection of place-based insights. She works as the Geographic Information Systems coordinator for the Alaska Region at the U.S. Forest Service. Her way of building relationship with the land includes collecting clays and plants.